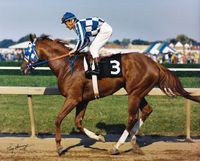 This incredibly rare and crystal clear photo features a victorious Secretariat with jockey Ron Turcotte aboard as they gallop back to the winners circle in the 1973 Preakness Stakes at Pimlico Racetrack. The striking image is a confluence of perfect late afternoon lighting and vibrant color radiating from Big Red's glowing chestnut coat amidst a backdrop of lush green turf and cloudless blue sky. Even after running the 1 3/16 mile distance and establishing a new track-record in the process, the Meadow Stable star is captured exhibiting the perfect balance and fluidity of movement which served him throughout his racing career.

Produced from the original negative, each photo is printed on the finest archival stock and available with the option of being hand-signed by Mr. Turcotte.

Available in 8" x 10"; 11" x 14"; 16" x 20" - Larger sizes by special request.